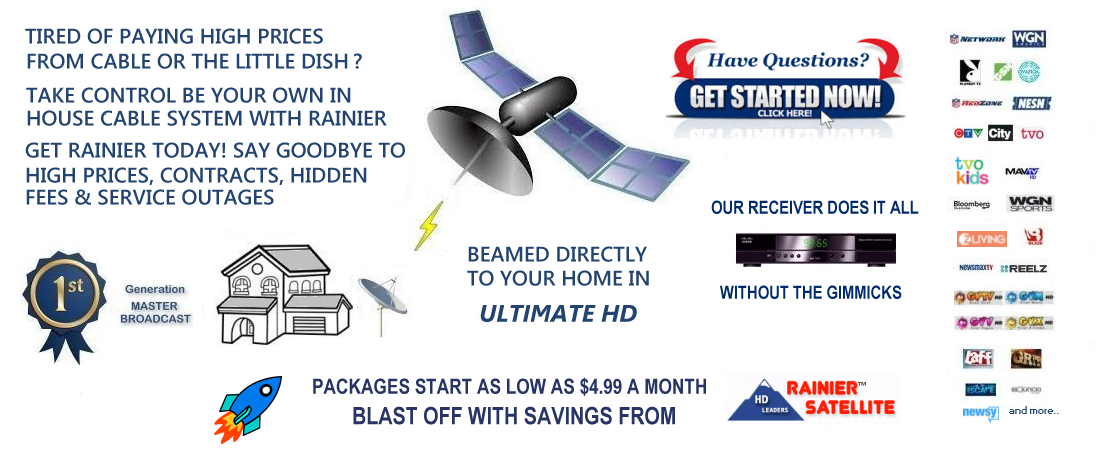 | | | |
| --- | --- | --- |
| Reasons to purchase the Rainier Satellite D9865D Receiver | Rainier D9865D | FTA Receiver |
| Receives Subscription TV | YES | NO |
| Receives ALL FTA Channels Reliably | YES | NO |
| Commercial Quality - Consumer Friendly | YES | NO |
| Full Phone Technical Support | YES | NO |
| 1 Year Warranty with Cisco a name you can trust | YES | NO |
| Automatic Firmware Updates Via Satellite | YES | NO |
| Modulates Receiver TV signal to multiple rooms | YES | NO |
At Rainier Satellite The Customer Comes First.

No longer needed are the old 4DTV or analog receivers to move your dish. Rainier Satellite now carries the highly acclaimed Pansat AP-600 mover. This is the best bug free mover out there to date. Powerful 36 volt high amperage design. Built in overload protection. Actuator re-synchronization feature for easy reset. Parental Lock / Unlock feature

The AP-600 combines perfect with our D9865D receiver for simple dish movement. Grab the Combo to use with our Full Arc Master Broadcast Platform.

You can read the review here

You can order yours here

---
C Band Big Dish Subscription TV is Back and Better than Ever. Catch all your Favorite Networks in Ultimate HD Only from Rainier!

Get Started Today - Order our HD Receiver and be on your way to big monthly savings on your subscription TV bill.




NFL Network, NESN & WGN Included in our HD Basic Blue Package.
Easy Financing Available through PayPal Credit
We know that for some C band equipment can be quite an investment. Rainier has made it easy now for you using PayPal Credit Financing to help manage the costs.

Get a 0% interest rate when you pay off the balance within the first six months.
Rainier Has Authorized Dealers.

Do you need someone to install a new system, or get your existing C band system up to par for Rainier Satellites PURE HD Programming? Check out our growing Authorized Dealers list here
Existing Rainier customers can contact Tech Support at: 509-477-9270
Rainier Satellite Programming is not limited to your Home.
Introducing Rainier Satellite Commercial for Business.

| | |
| --- | --- |
| Boost your business revenue potential with Rainier Satellite. We know that great television is not limited to your home. Your customers Boost your business revenue potential with Rainier's access to the best programming that television has to offer, at the best possible rates. Own a Sports Bar, Restaurant, etc. Have a 60 inch plus HDTV screen? Tired of the important game going out in the rain? Own a Hotel, Motel, Cruise Ship line, etc. Need programming for your guests? Then Rainier is for you. Contact our Commercial Department at: corporate@rainiersatellite.net for more information. | Canadian Networks Available for Cable Companies and Private Networks with our Commercial Platform. |
Rainier Cares About Your Television Needs...
Call 509-486-4137 Today For More Information.
Were the Future of C Band Television.