Is a company based in the United States out of the state of Washington. Founded in 2013 by three entrepreneurs with the insight and vision to see what is needed in the satellite multimedia communications industry. They continue to work hard to change future visions into reality.
Rainier Satellite provides multimedia television programming delivery access for the consumer. Be it either direct to home, through the C band satellite platform, or for moble applications, via the wireless communication platforms.
Rainier Satellite works directly with some of the industries largest companies and program providers to provide products and services for its clients.
Rainier Satellite is also a provider of satellite and multimedia hardware products to the consumer, and broadcast satellite communication industry.
Here at Rainier Satellite, we are dedicated to bring you the best quality technology the industry can deliver.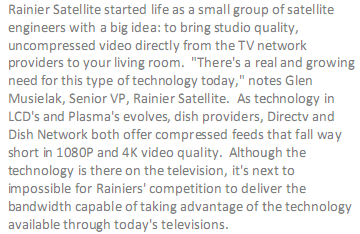 On May 15th, 2015 Rainier Satellite opened its Online Sales Webstore and began sales of HD programming and equipment to the the General Public. Robert Scharmann President said "It was a long time coming, but the wait is finally over. Rainier will continue to move forward and promises to continue to work hard to bring more cutting edge technology to the C band satellite industry".
Our Mission Statement
Our mission is to provide our clients with the highest quality of customer service, by committing ourselves to be the best through continuous improvement. We are dedicated to delivering an exceptional experience for every client. We pledge to make a difference for our clients by focusing on integrity, respect and loyalty.
Rainier Satellite LLC, 27 Orchard Loop N, Tonasket Wa, 98855 Contact Us