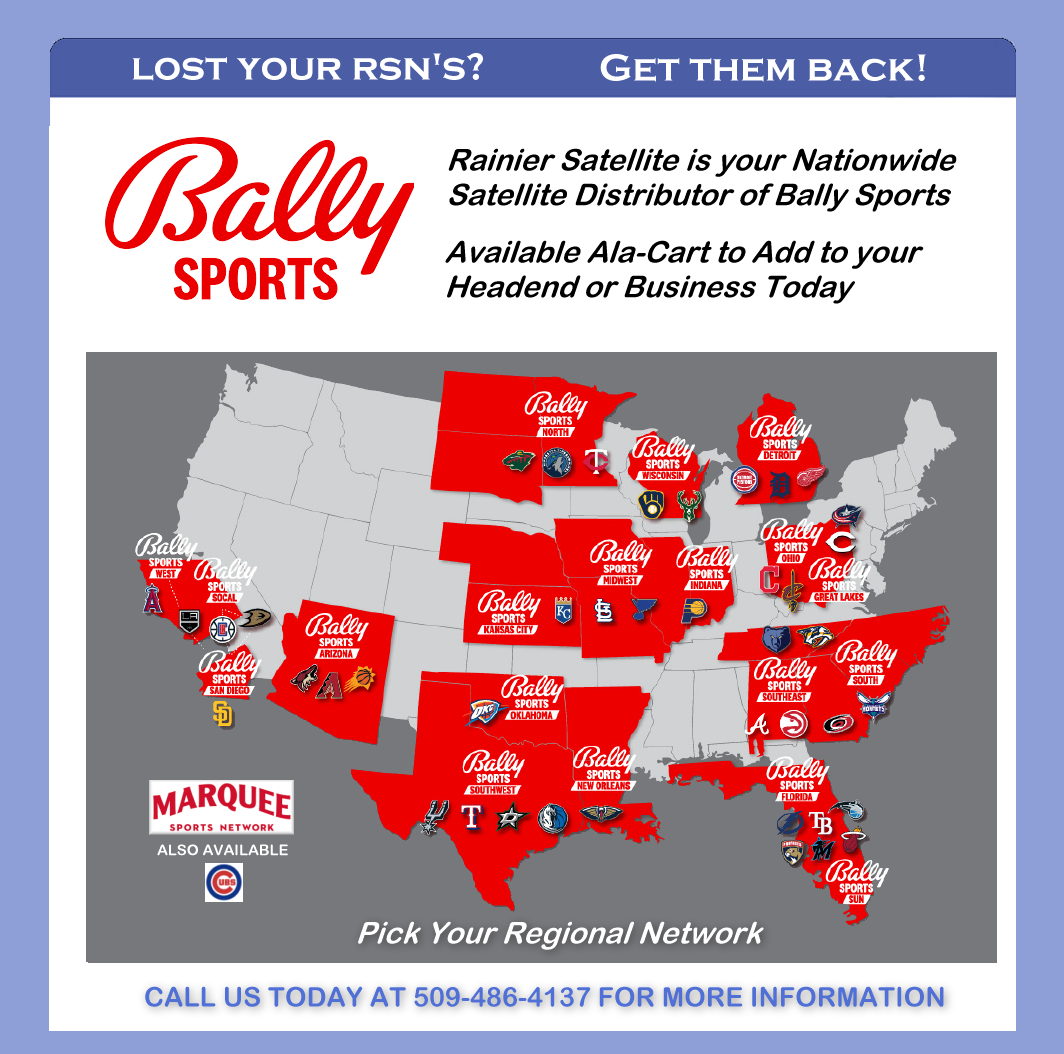 Did your TV provider stop selling your Bally Sports Regional Network? Did you know Rainier can add them back for your Headend or Business TV establishment Ala-Carte! First time subscribers also welcome.
| | |
| --- | --- |
| | The Bally Sports Regional Networks are the nationís leading provider of local sports. Its 21 owned-and-operated regional networks include Bally Sports Arizona; Bally Sports Detroit; Bally Sports Florida; Bally Sports Great Lakes; Bally Sports Kansas City; Bally Sports Indiana; Bally Sports Midwest; Bally Sports New Orleans; Bally Sports North; Bally Sports Ohio; Bally Sports Oklahoma; Bally Sports San Diego; Bally Sports SoCal; Bally Sports South; Bally Sports Southeast; Bally Sports Southwest; Bally Sports Sun; Bally Sports West; and, Bally Sports Wisconsin; Marquee and YES. The Bally RSNs serve as the TV home to more than half of all MLB, NHL and NBA teams based in the United States. The Bally RSNs also produce over 4,600 live local professional telecasts each year in addition to a wide variety of locally produced sports events and programs. |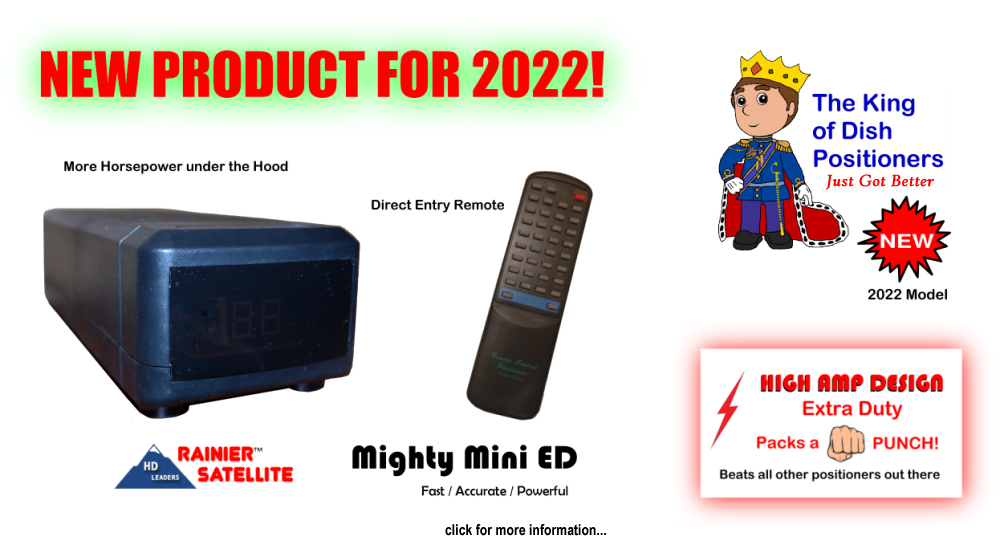 Rainier Satellite is your National C band Satellite delivered Cable TV programming content and satellite equipment provider. We offer Television viewing solutions and gear for your business or home.

Is Rainier Satellite's programming avaliable in my area?

Our service is available to all 50 states, including Alaska and Hawaii.

†
| | |
| --- | --- |
| | Our mission is to provide our clients with the highest quality products, services and support, by committing ourselves to be the best through continuous improvement. We are dedicated to delivering an exceptional experience for every client. We pledge to make a difference for our clients by focusing on integrity, respect and loyalty. |

We offer two TV programming platforms. Click on the links below to find your best solution.

Satellite Dishes Available. In Stock. No Supply Chain Issues. Build your custom solution.

2.7 meter to 5 meter (9 foot to 16.4 foot) satellite dish sizes are availiable. Rainier Satellite provides the best C and Ku band satelliite dish solution for your business or home. Choice of mount and configuration options are available. Our dishes are made in the U.S.A. to the highest quality standards. In Stock. No supply chain issues. Contact Rainier today.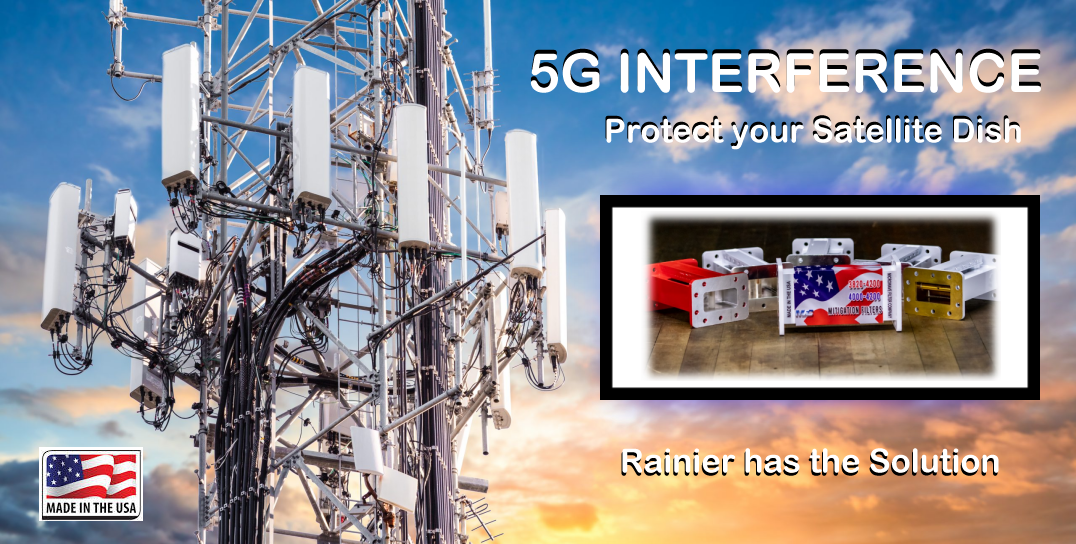 5G Cell Tower causing your C band site interference? Filter out the offending signals with Rainier's 5G filtered LNB's and Band Pass Filters. Band Pass Filters and Filtered LNB's available. (call for stock status) Questions contact Rainier today.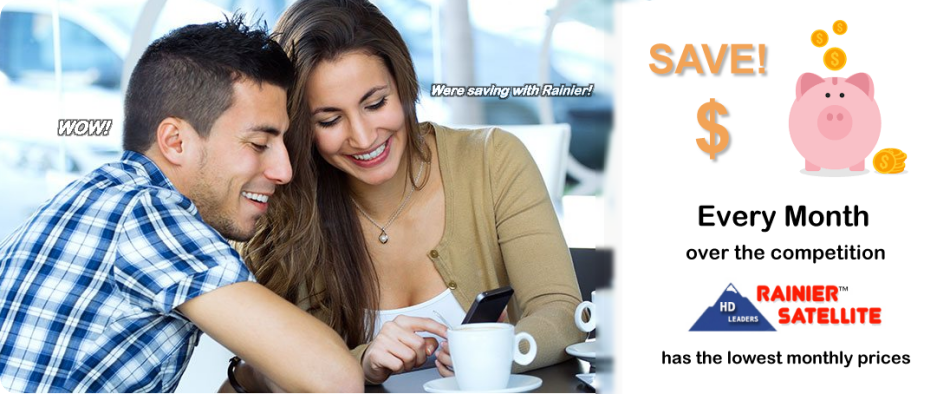 Find out how Rainier can Save you Money. Call us at 509-486-4137 for more information.
Do it Once... Do it Right... With Rainier Satellite! Give us a call Today.