The Rainier D9865D
Receiver Technical Information
---
Cisco PowerVu HD / SD C - Ku Band Subscription Receiver
The NEW D9865D for our service.
Rainier Satellite is proud to announce the Latest New C band Receiver for Direct to Home Satellite TV market. The New D9865D C Band HD Receiver designed for use on our C band PowerVu Full Arc subscription platform built by Cisco. Our Receiver offers True Master Ultimate 1440 lines of HD Picture Quality. It has a built in integrated PowerVu decoder, and specifically customized for us to decode the Ultimate HD subscription programming we're offering. It is built with the same high quality standards of all of Cisco's commercial products. Cisco Systems is a leader in broadcast and cable technology products, a name you can trust.
All receivers are brand new and shipped directly from Cisco to Rainier Satellite, then to our subscribers. They carry a full warranty with Cisco with an optional Cisco Smartnet for advanced support and replacement. Cisco's policy is between Cisco and Rainier Satellite. Secondary market aka pre-owned unlicensed equipment cannot be used or activated on the Rainier Satellite platform, as per Cisco's policies.

Introducing the Cisco Rainier D9865D Commercial-Quality Satellite Receiver.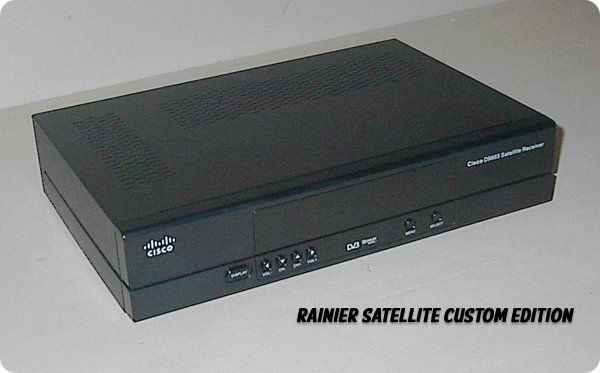 Facts and Information about the D9865D Rainier Receiver.
It receives Rainier's SD & HD Subscription PowerVu Programming.
It receives SD & HD Freeview FTA channels available.
It has HDMI, Component, Composite, SPDIF, RCA audio outputs, RS232 & LAN (9865D model.)
It receives all DVB S, S2, 8PSK, Mpeg 2 & 4 SD and HD channels.
It receives FTA and Conditional Access Subscription channels.
It is built by Cisco for us using Broadcast Commercial Quality Standards.
It provides Extremely High Quality Video and Audio.
It is a stand alone IRD that requires an external dish mover (AP-600 available from us)
Future add on accessories for our other Platforms and upgrades will be available for it.
Front Panel.

Connecting the Receiver D9865D shown.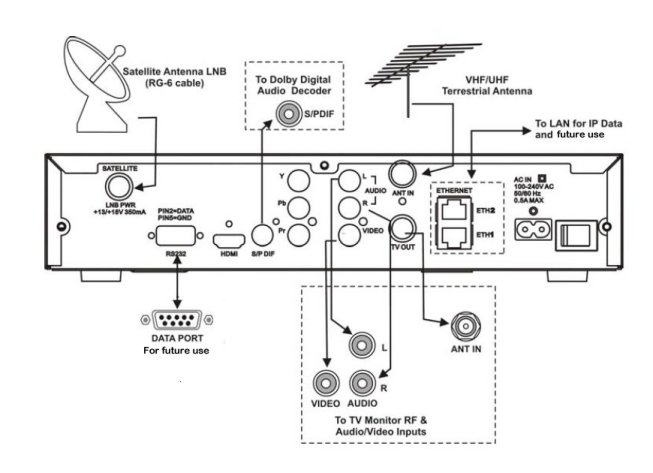 Dish Size, LNB Requirements.
To insure proper performance on DVB S2 HD 8PSK signals, a well aligned 7.5 foot or larger C band dish is recommended. Dishes smaller than 7.5 feet may have reception issues with some signals. 6 foot or smaller dishes will not work, right. A PLL (phase lock loop) LNB will always provide the best performance, please use them especially on dishes smaller than 10 foot. LNBF's are not recommended. Make sure your dish and feedhorn are properly aligned and tweaked on the satellite arc for maximum efficiency. Please upgrade your satellite system if needed to avoid unnecessary problems.
LNB Requirements for DVB and DVB S2, PLL Recommended.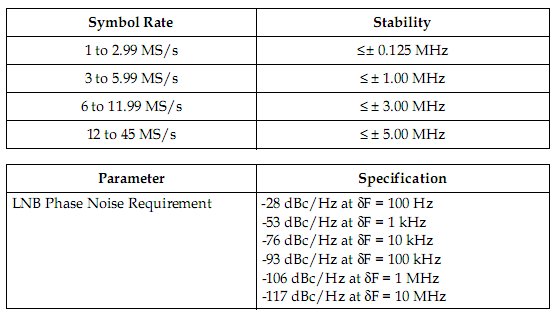 Remote, Quick Look.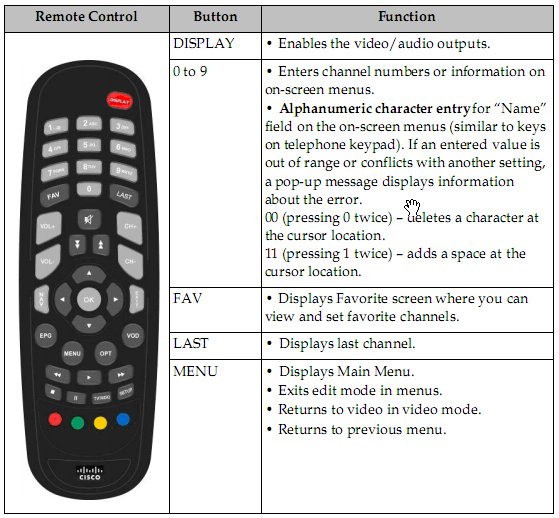 Receiver Menus, Quick Look.